MBW Explains is a series of analytical features in which we explore the context behind major music industry talking points – and suggest what might happen next.
---
WHAT'S HAPPENED?
This week, a YouTuber with over 2.9 million subscribers revealed on Twitter that they had received a copyright strike from YouTube for a popular video they posted on their channel.
Titled, 'I asked AI to write an Eminem rap about cats', Grandayy's video included an AI-generated track featuring vocals that mimic Eminem's voice. The video was featured by John Oliver in February on an episode of HBO's Last Week Tonight.
YouTube issued the strike and removed the video from its platform after a takedown request was submitted by Universal Music Publishing Group, which signed a worldwide administration agreement with Eminem in 2007.
Grandayy claimed on Twitter: "Universal Music Group just decided to copyright strike my AI Eminem Cat Rap video. Usually they just claim and monetize videos like this but they really wanted AI Eminem to be taken down for some reason."
---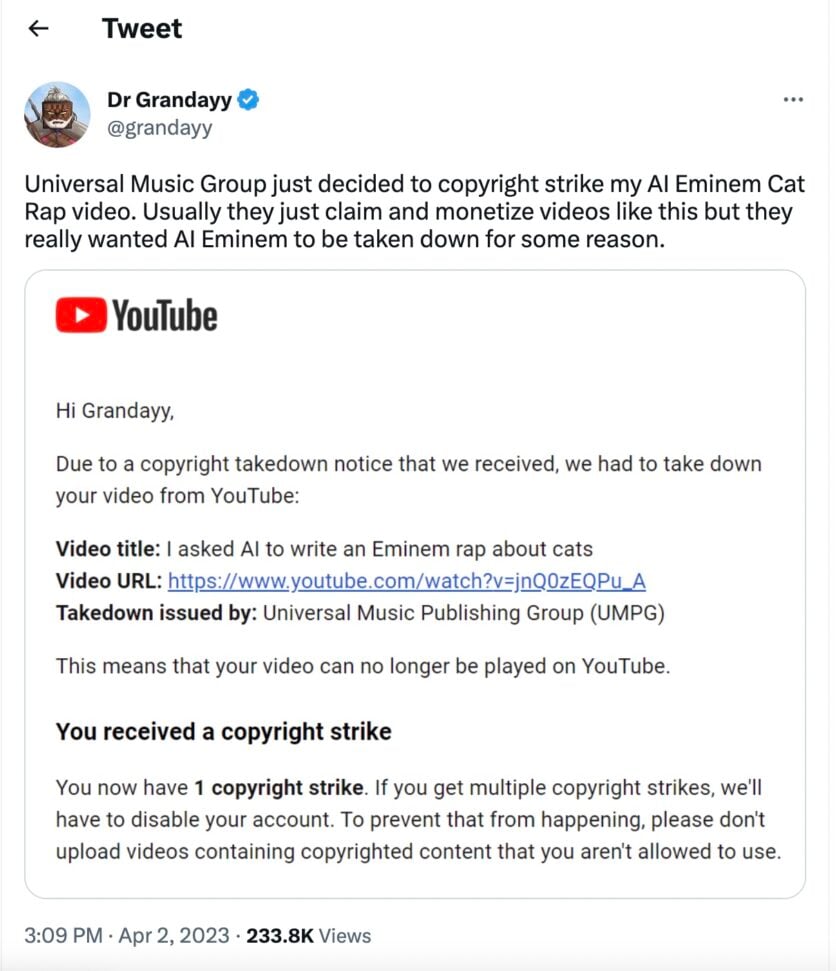 ---
According to YouTube's FAQs, receiving a copyright strike "means that a copyright owner submitted a complete and valid legal takedown request for using their copyright-protected content".
The FAQs add: "When we get this type of formal notification, we take down your video to comply with copyright law".
---
WHAT'S THE CONTEXT?
The use of artificial intelligence in music is stirring up a lot of debate right now.
One particular use of AI for lyric writing went viral in January after a Nick Cave fan asked the ChatGPT system to write lyrics 'in the style of Nick Cave', with the artist calling the end product "a grotesque mockery".
But beyond text-based AI, one of the most transformative uses of artificial intelligence in music right now is the use of AI engines to mimic human vocals.
MBW wrote about this in November, when we revealed that Tencent Music Entertainment had released over 1,000 songs with human-mimicking AI vocals – and that one of them had already achieved 100 million streams.
We also reported on this trend back in 2021 and again in 2022, when HYBE, the company behind BTS, initially invested in, and subsequently acquired, voice AI company Supertone in a $32 million deal.
Supertone claims to be able to create "a hyper-realistic and expressive voice that [is not] distinguishable from real humans".
---
More recently, a high-profile example of a popular artist's vocals being mimicked by AI came from David Guetta.
In February, Guetta revealed that "as a joke", he'd asked an AI platform to write lyrics in the style of Eminem.
Guetta then used an AI tool to mimic Eminem's voice using those lyrics, before playing the resulting audio in a live set. He said that his audience went "nuts" in response.
The David Guetta story threw up various ethical and legal questions about the use of AI to mimic another artist's vocals without their permission.
This was further put to the test last month in a wild viral video from 'entrepreneur and designer' Roberto Nickson, in which Nickson used an AI audio model of Kanye West (aka: Ye) to turn his own voice into that of the controversial superstar.
(If you haven't seen Nickson's very impressive, yet rather unsettling video, it's a must-watch – check it out here.)
Nickson offered a glimpse into the future of how this kind of AI might be used. He predicted that in years to come, "every popular musician will have multiple trained [vocal] models of them".
He added: "Things are going to move very fast over the next two years. You're going to be listening to songs by your favorite artists that are completely indistinguishable. You're not going to know whether it's them or not."
---
WHAT HAPPENS NOW?
A source tells MBW that the issue at hand in the Grandayy takedown request was simply a musical one: the music used in the YouTuber's track was, in Universal's view, created in the style of the musical composition for Eminem's hit Not Afraid, which itself has been streamed over 819 million times on Spotify alone.
In other words, UMPG believed that the backing music used in the Grandayy AI track infringed on the copyright of Eminem's original hit. That's why a takedown request was issued to YouTube by Universal – not because of the AI vocals that mimicked Eminem's voice.
Speaking to VICE, Grandayy argued that the AI Eminem rap track was a parody, stating: "On one hand I totally understand if copyright owners want to protect their art and take down videos that claim or insinuate that they were created by the artist themselves, or videos that try to mimic the original art and therefore compete with it."
Grandayy added: "But my video and so many others are just obvious fun transformative parodies that provide no harm to the original art — if anything they are probably of benefit to them — so it's sad to see a record label take down videos like this."
---
Parodic works are allowed in copyright law provided they are "transformative", i.e. presented in a way that significantly changes the original work, and if they don't compete with the original in the same market. (YouTube sets out its fair use policies around parody and pastiche in accordance with copyright law, here.)
Grandayy has suggested that UMG usually "just claim[s] and monetize[s] videos like this but they really wanted AI Eminem to be taken down for some reason".
Another source with knowledge of how UMG's take-down requests work tells us that, as a matter of policy, the company chooses not to monetize 'unauthorized derivative' works – i.e content that UMG believes infringes on an original track's composition, lyrics or other elements without permission.
---
A Final Thought
It's not clear if the supposedly infringing music accompanying Grandayy's AI-generated vocals was also generated by AI. But if so, it speaks to a problematic issue for the modern music biz.
The incident throws up a lot of questions about the copyright implications of generative AI's use in music, and why it's becoming a growing concern in the wider music industry.
This was highlighted by the recent launch, by a coalition of over 30 parties including the RIAA, the Recording Academy, SAG-AFTRA and SoundExchange, of a campaign at SXSW in Austin last month setting out seven "Core Principles for Artificial Intelligence Applications" aimed at supporting 'human artistry.
Included in those principles are that 'the use of copyrighted works, and use of the voices and likenesses of professional performers, requires authorization, licensing, and compliance with all relevant state and federal laws'.
---
Michael Nash, Universal Music Group's Executive Vice President and Chief Digital Officer, also recently penned an op/ed for MBW, in which he highlighted some of the copyright concerns around AI-generated content.
In that op/ed, Nash wrote, that: "AI is transforming the ways we live, work and play – from chatbots that answer complex questions to systems that can write passable screenplays to programs that have passed part of a bar exam in the US.
He added: "AI is now creating imagery comparable to professional artists — with one AI-generated portrait being sold for £40,000 at Sotheby's and another composition winning a State Fair competition in Colorado.
"But what many people don't realize is that most of these AI systems acquire their essential base of 'knowledge' from vast quantities of copyrighted content, without seeking consent from, nor providing compensation to, those who actually produce and own this indispensable source material."Music Business Worldwide