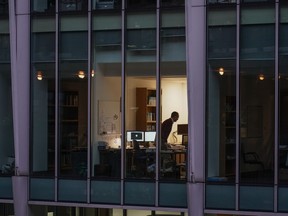 Article content
TORONTO — Around half of hiring managers and employees believe a combination of remote and in-office work to be the ideal setup, according to a survey which suggests both sides might be aligning on the issue more than three years after the COVID-19 pandemic forced many Canadians to work from home.
The new data from recruiting company Robert Half found that hybrid working arrangements were favoured by 54 per cent of hiring managers, compared with 49 per cent of professionals surveyed. The report was based on an online survey of 1,373 hiring managers between May 4 and May 13 and 1,148 workers between May 4 and May 30.
Article content
The results aren't surprising, said John Trougakos, a University of Toronto professor of organizational behaviour and human resources management, who called hybrid work "the best of both worlds" for employees and organizations that may have clashed over return-to-office policies.
"I think there was this great worry that maybe it would be impossible to get employees back into the office," he said.
"To be competitive, companies have to be able to provide some level of hybrid work for flexibility and to allow employees to be able to work in a way that's going to make the most sense to them."
Trougakos said some companies were initially "desperate" to push workers back to the office but have adapted to find a compromise with their staff.
Data from Robert Half shows sentiment among employers on the issue has shifted. A previous survey of hiring managers in the fourth quarter of last year found 60 per cent viewed a situation where "everyone on my team is working in the office" as ideal, compared with 35 per cent who favoured a hybrid setup.
The survey results released Monday found 38 per cent of hiring managers saw everyone working in office as the ideal situation, while 28 per cent of professionals saw it as ideal.
Article content
"We're seeing this meeting in the middle ground that's happening now," Trougakos said.
Everyone working remotely was seen as ideal by eight per cent of hiring managers and 22 per cent of professionals, the survey found.
Trougakos called the hybrid work model "the way of the future," noting companies have now spent years investing resources to ensure employees can complete their duties both in-office and remotely.
He compared work-from-home to the advent of laptops or smartphones.
"Once these options get out there, people use them and companies use them. Companies will use them to their advantage and employees will use them to their own benefits as well," he said.
"Once the toothpaste is out of the tube, so to speak, it's very hard to put it back in. You might be able to get some back in, but you're not going to refill the tube again and I think this is where we are with this."
This report by The Canadian Press was first published Aug. 14, 2023.